My name is Roy Fellows and I have been driving to Wales from my home for over 50 years and have seen many changes. Obviously M54 and new A5 have changed the journey radically since my youth.
Newtown, once a quiet market town has become subject to a lot of new development and is now a major central Wales retail area. On busy summer weekends it has become a nightmare for holidaymakers travelling to Aberystwyth, not to mention the local people where a normally quick trip down to Morrison's has become a similar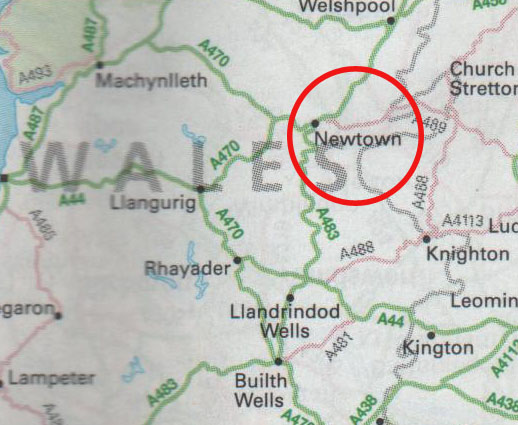 nightmare.
I originally said that "the new bypass will benefit everyone". Following some local feedback I now revise this statement to read "the new bypass will benefit people travelling through" and as a regular traveller through the town I find the changes to my route fascinating. As such I decided to record developments stage by stage by photographs, and share them with others. I should get a life.
This started as a single page on my own personal website. However realising how the page was growing, and after a lot of kind support from local people, I decided to register this domain and move everything over. This has enabled me to create dedicated pages covering, hopefully, every aspect of the work.
This is not commercial in any way but I am doing this simply as a hobby.
The existing road layout will change out of all recognition at three key points depending on where you are going and from which direction.
1/ Welshpool Road approaching from the east just before you reach "The Gro" on the right, and the industrial estate behind the trees on the left.
2/ Dolfor Road A483 coming from Llandrindod Wells.
3/ Llanidloes Road approaching from the west.
After this you will be a strange new world if you are passing through, and once you are on the new road once completed, you wont appreciate the changes unless to are entering it.
If anyone has any drone pictures of work in progress to share, please send them in to roy@royfellows.uk
The contractors are Alun Griffiths who must find the project quite an interesting challenge due to the topography of the now preferred route.
The plan below is from the contractors community website. As can be seen the new road will cut through the Glandulas Caravan Park at the western end, while at the eastern end a private property and a barn will go, as will a long section of the existing road.

---
PLEASE NOTE: ALL PHOTOS ARE COPYRIGHT ROY FELLOWS EXCEPT THE "AS WAS" WHICH ARE GOOGLE, AND THE PLANS WHICH ARE ALUN GRIFFITHS, AND ANYTHING FROM 'LOCAL RESIDENT'. PRIVATE COPYING OF MY PHOTOS FOR PERSONAL USE IS OK, BUT FOR COMMERCIAL USE PLEASE CONTACT ME. I HAVE MANY OTHER PHOTOGRAPHS SHOWING THE PROGRESS OF THE ROAD SCHEME
---
Although I live near Cannock I travel through the town most weekends as I have interests in mid Wales as Managing Director of the Cambrian Mines Trust which owns Cwmystwyth Mines near Devils Bridge. www.cambrianmines.co.uk
I am also associated with other concerns that are involved with mining history and heritage work.
If any Griffiths employees or local people see me around and want to have a chat they are more than welcome, I drive a metallic Skoda Octavia FT14HZM.
This website is managed by Roy Fellows. Greengables. Stafford Road, Great Wyrley. Walsall. WS6 6AX.
email: roy@royfellows.uk
---