Rather predictably, the noble cause of 'Black Lives Matter' has predictably been hijacked by the far left and weaponised, with some bizarre results.
It appears that the movement now has paramilitary wings, with the first lot to emerge as seen below.
Power to the people!
Well, hardly much of a revolution is it with all four of them, or five if you count Fidel at the back. More shades of "Wolfie Smith" as in the 1970s TV comedy "Citizen Smith"
Maybe he is their role model.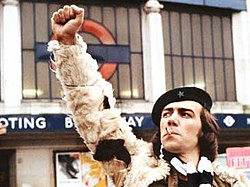 May the Force be with you
Few weeks later, and a second lot emerge. A bit more sinister here.
Nigel Farage has described them as "terrifying", they don't terrify me, as a "Force" they don't have the force of a wet fart.
There is actually a law to stop this kind of thing, The Public Order Act 1936 which was brought in to stop Oswald Mosley's fascists, but it seems that the law turns a blind eye here. Remains to be seen if they grow in number, or start threatening or committing acts of violence, so far all they are doing is marching up and down in their uniforms like tinpot soldiers.
The lot at the top are a joke, these probably more serious. Of course its a provocation which the far right will likely respond to with their own paramilitaries ready to do battle on our streets like in the 1930s with Mosley and his opponents. Not good.
Bottom line, is that there is no place on our streets for paramilitary units and private armies, full stop.
Thursday 6th August 2020
Things are starting to move already, a lot of media buzz.
For a very balanced assessment and well worth a read go here: https://www.rt.com/op-ed/496973-forever-family-black-activists-nfac/
So who are they and what are their aims. I have picked up the following on this
A stated aim to centralise community groups in a bid to support like-minded organisations.

A promotional video states that said they are 'united in the battle against racism, inequality and injustice'.

They have also been described as a 'Black-owned business' with 'company values' of 'integrity, transparency and accountability'. All a load of waffle.
I dont think its rocket science to see through all this. The Public Order Act creates a criminal offence of the public wearing of a uniform relative to a political objective. So the thinking here is clear, no political objective, no criminal offence. We see people in uniform all the while, police officers, ambulance crew, security staff etc, all perfectly legal. It comes over to me that this outfit see a loophole in the law and that they are basically taking the piss out of the rule of law.
So now the far right will take a leaf out of their book, sauce for the gander etc. So maybe an organisation devoted to the care of deprived children with its members dress liked Einsatzgruppen stamping around in jackboots?
All very predictable, people will go to jail.
---
In Law
Public Order Act 1936
(1)Subject as hereinafter provided, any person who in any public place or at any public meeting wears uniform signifying his association with any political organisation or with the promotion of any political object shall be guilty of an offence:
Provided that, if the chief officer of police is satisfied that the wearing of any such uniform as aforesaid on any ceremonial, anniversary, or other special occasion will not be likely to involve risk of public disorder, he may, with the consent of a Secretary of State, by order permit the wearing of such uniform on that occasion either absolutely or subject to such conditions as may be specified in the order.
Prohibition of quasimilitary organisations.

(1)If the members or adherents of any association of persons, whether incorporated or not, are—

(a) organised or trained or equipped for the purpose of enabling them to be employed in usurping the functions of the police or of the armed forces of the Crown; or

(b) organised and trained or organised and equipped either for the purpose of enabling them to be employed for the use or display of physical force in promoting any political object, or in such manner as to arouse reasonable apprehension that they are organised and either trained or equipped for that purpose; then any person who takes part in the control or management of the association, or in so organising or training as aforesaid any members or adherents thereof, shall be guilty of an offence under this section:

Provided that in any proceedings against a person charged with the offence of taking part in the control or management of such an association as aforesaid it shall be a defence to that charge to prove that he neither consented to nor connived at the organisation, training, or equipment of members or adherents of the association in contravention of the provisions of this section.
Public Order Act 1986
Sections 4 and 5 are similar in that:
(1) A person is guilty of an offence if he -

(a) uses towards another person threatening, abusive or insulting words or behaviour, or
(b) distributes or displays to another person any writing, sign or other visible representation which is threatening, abusive or insulting,
with intent to cause that person to believe that immediate unlawful violence will be used against him or another by any person, or to provoke the immediate use of unlawful violence by that person or another, or whereby that person is likely to believe that such violence will be used or it is likely that such violence will be provoked.

(2) An offence under this section may be committed in a public or a private place, except that no offence is committed where the words or behaviour are used, or the writing, sign or other visible representation is distributed or displayed, by a person inside a dwelling and the other person is also inside that dwelling.

It replaces the offence under section 5 of the Public Order Act 1936.[1]
---
I will keep this page updated as any new lots emerge, right left or whatever, or any new developments.
---