I never got the kind donation of £50 to Cambrian Mines Trust. but you cant win them all. If it happens again I will try and elaborate a bit, see if the scammer will chance the £50 through greed of thinking they will get the £10K or whatever.
---
TV Licensing
I do not have a TV licence. I do not own a TV, or watch TV programs including 'catch ups' at all by any means. Therefore I don't need a TV licence.
However I am continuously bombarded by letters including the one below enclosed in a window envelope so the "under investigation" part shows through.
TV licensing is run by Capita a private company on behalf of the BBC. I tried contacting them on line to declare that I do not need a licence. There was a string of personal question, I got as far as where they ask for my email address and then I quit. I am under no legal obligation to tell them anything.
Regardless of this going on for years I have yet to see an 'enforcement officer' as they call their salesmen.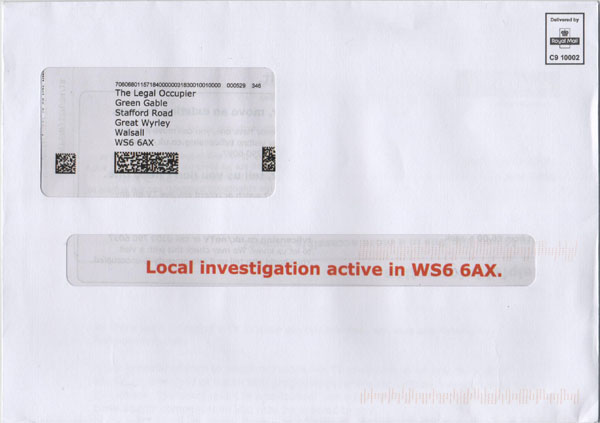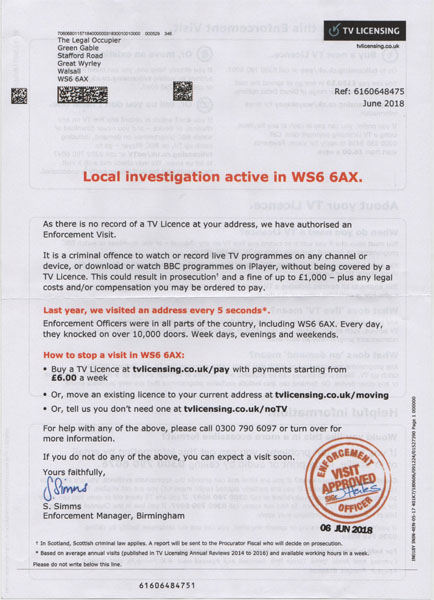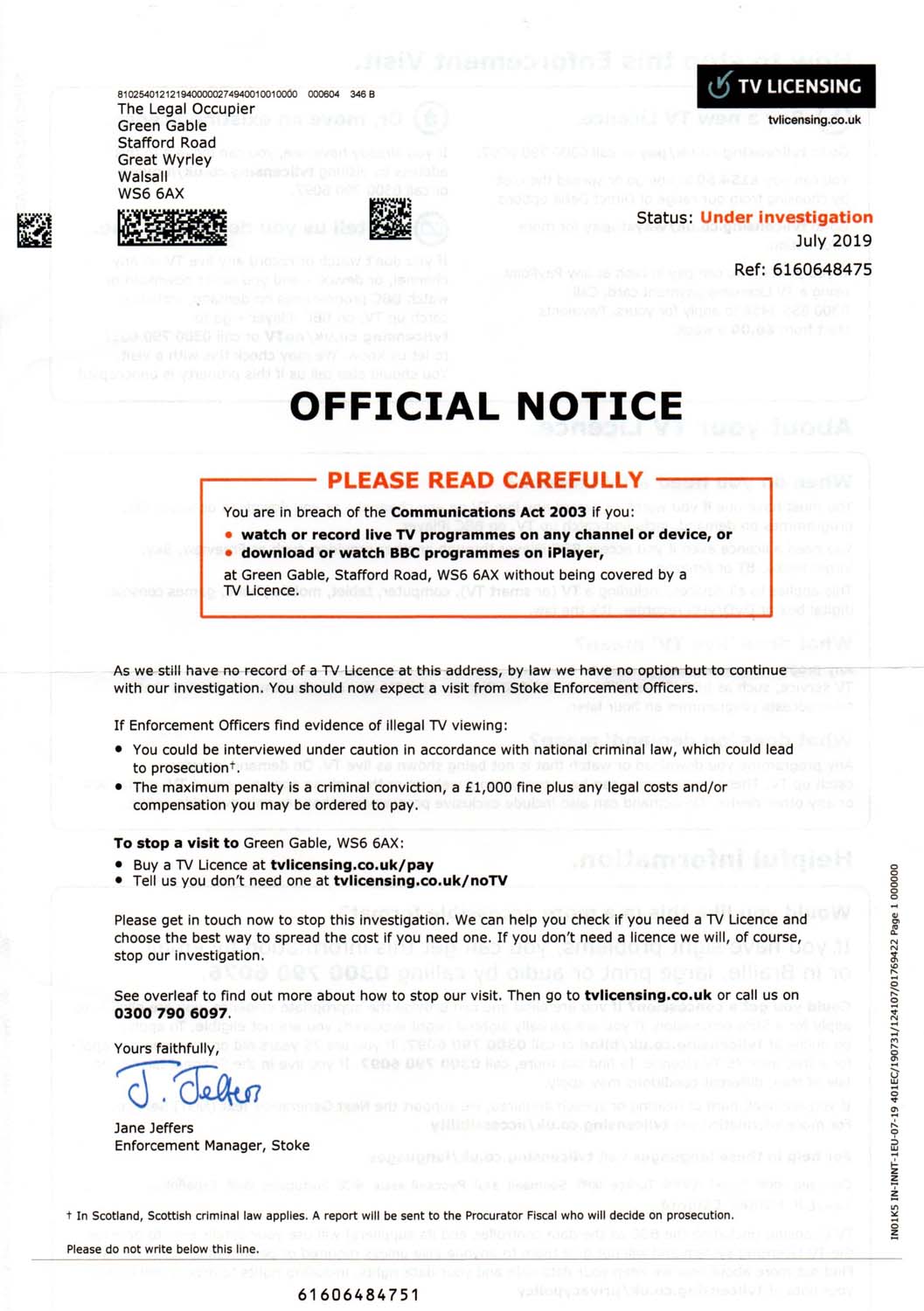 The above is the most threatening letter received as yet. The effect on the an elderly vulnerable person can easily be imagined.
I look forward to a visit by their so called "enforcement officer". I don't own a TV or watch catchups and have better things to do with my life than absorb the shit that they pump out.
---
International Broadband Network
"This is the International Broadband Network. because you computer is affecting other computers with virus's, we are going to disconnect your broadband. If you don't want your broadband disconnecting, please ring .........."
I am unsure what they do next, demand money, get you to download ransom ware, some scam or other.
The calls are a real pest, two or more a day. Use an answer phone to see who's calling and only pick up for people you know.
---
Why would someone spend money advertising something that they are giving away free?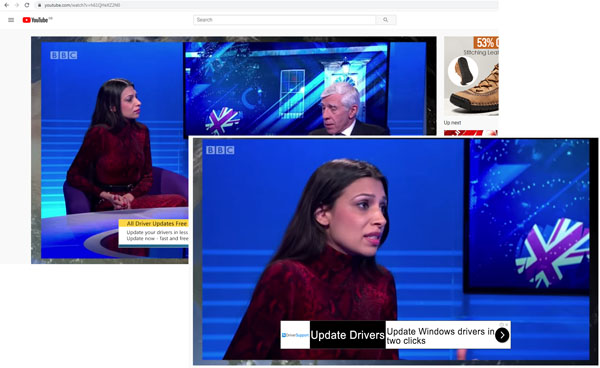 Twice in 2 minutes on YouTube I get this. OK, so what does it do that they don't tell you about?
and again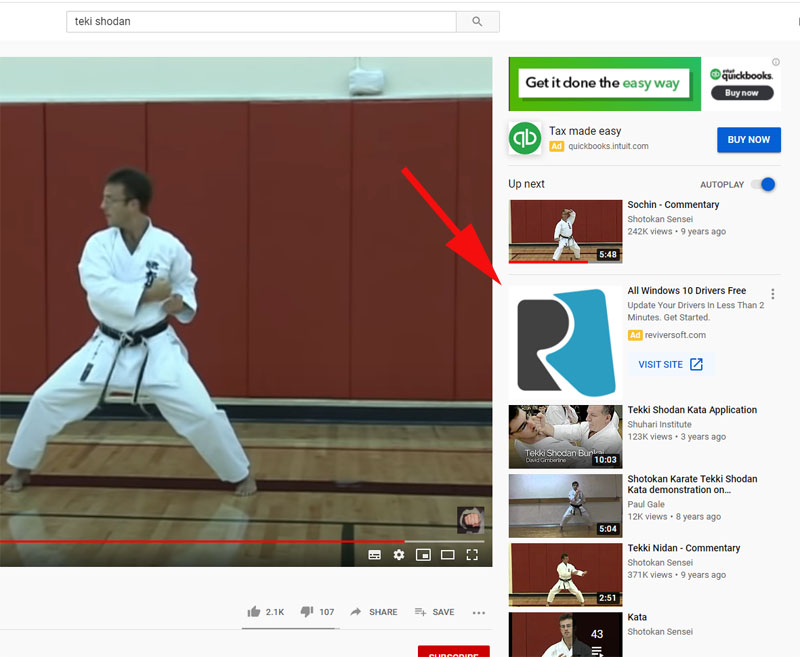 All Windows 10 drivers Free!
Maybe someone should have told them that Win 10 includes all the drivers you need.
Or more like it, they trying to get you to install something else.
I wonder what?
---
How to sell a £5 USB stick for over £300!
Basically, its an ordinary £5 USB stick with a sticker on it. All part of the 5G conspiracy rubbish. Apparently is has a " wearable holographic nano-layer catalyser", I might have a few of these lying around in my garden shed.
Follow this link to the BBC website
https://www.bbc.co.uk/news/technology-52810220
---
Intimidation
I am hearing more about this. basically, as a scam it involves a person, usually in the older age bracket, being 'intimidated' i.e. vaguely threatened, to coerce them into buying goods or services, usually at an inflated price, that they don't want
Thinking on this, it must carry certain occupational hazards, such as trying it on the wrong person.
What follows then is what can be described as a "life changing experience". This can involve things that the culprit normally takes for granted, such as the ability to eat solid food, breath independently of a machine etc, to all change in but a few seconds.
For the avoidance of doubt, the fist is my right fist, its been known to crack brickwork.
---
Pop-up warnings, the road to a tech scam

Tech support pop-up warnings occur when a user is browsing the Internet. There are websites that imitate legitimate ones but with a miss spell in the web address. This is to catch people who incorrectly type the real one. Sometimes a legit one gets hacked and the code seeded with code that causes the pop up. They are designed to look like Genuine Windows message or similar warring that your computer has been hacked or infected, but they are not, they just a silly web page.
The messages can look convincing. Here is a link to most common examples from DuckDuckGo, all are fake.
https://duckduckgo.com/?q=example+scam+pop+ups&t=chromentp&atb=v152-1&iax=images&ia=images&iai=https%3A%2F%2Fsod-it.co.uk%2Fwp-content%2Fuploads%2F2018%2F02%2FGoogle-Security-Warning-scam.jpg

Sometimes they manage to lock your browser, NOT YOUR COMPUTER. Get out is easy, close your browser using Task Manager, your computer will be unaffected by the pop ups, they are really just web pages.
Make V sign with two fingers of your left hand and hit at same time Ctrl and Alt (bottom left) and hold down, then strike Delete on the right, you will get a list, click "Task Manager" at the bottom. Look I did this while typing this page. Highlight your web browser in the list and click End task. Job done.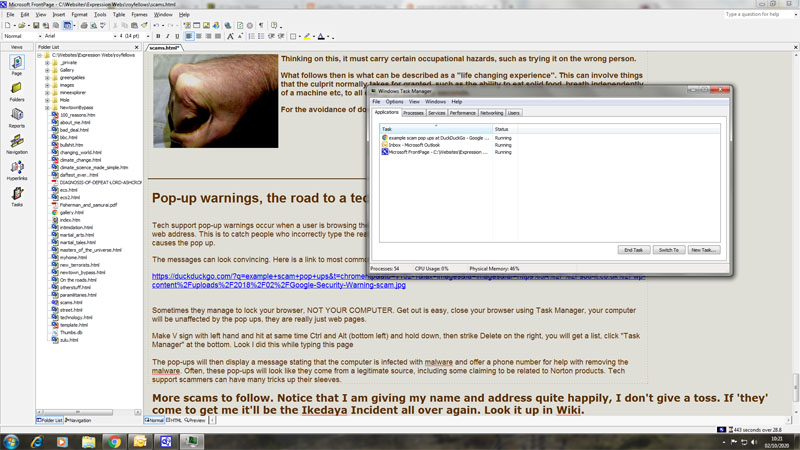 If you fall for it the scammer, which is usually an Indian call centre, will talk you into downloading software which will enable them to access your computer, or maybe a fake antivirus that will require periodic updates that you will have to pay for. If they get control of your computer they will use a utility called System Key which is part of Windows prior to Windows 10, They can then remotely lock your computer and demand ransom money.
There is an easy way of dealing with these call centres once located, a Tomahawk Cruise Missile.
Task manager will also give you the name of programs running, so if you get a virus INSTALLATION file dropped on you and it wants you to install it and loops back on screen every time you close it down, you can use task manager to shut it down and locate it. Problem is that you may have to get an IT Professional to delete it for you from a bootable disk. Try your local computer shop, the small shops give the best service.
---
The huge burning unanswered question: Why are people so stupid?
I have said it before and say it again, you wont get a virus or scammed by doing nothing. Ignore the emails, phone calls, and pop up messages on your computer and do bloody nothing. Do I have to drive it in with that fist of mine.
---