---
This LED torch keeps constantly appearing in pop up ads, basically, at the price they ask, its a SCAM. But just look how its being advertised.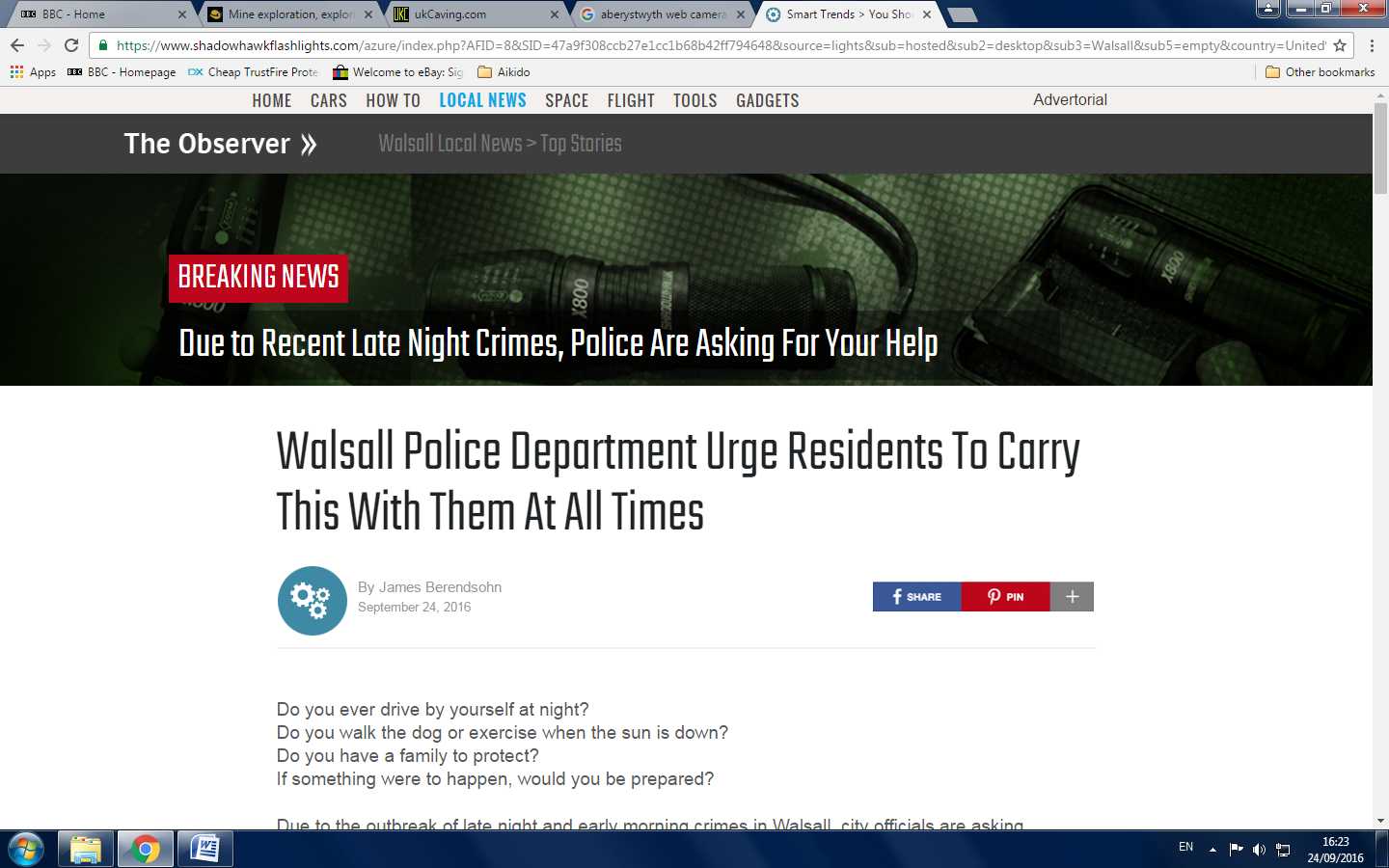 I am unsure what adverting rules the above breaks but what they are selling is a cheap Chinese torch at a price at time of writing this of $56 USD which is £45. The name changes constantly, ShadowHawk, MilTech, "Ironhide"! and now the Galvastron. But all the same torch.
Look at the above wording, the ad is even individualised to where I live, courtesy of Google.

Typical Ad reads:
You Get The Tactical LS360 Torch Today - Normally £224.00 Retail - For ONLY £56.00 (75% Discount!)
PLUS.. We're throwing in shipping for only £1 when you order yours today!
Now if you want to grab yourself a real bargain, try good old Ebay, same torch in abundance and one offered at only £10.82.
---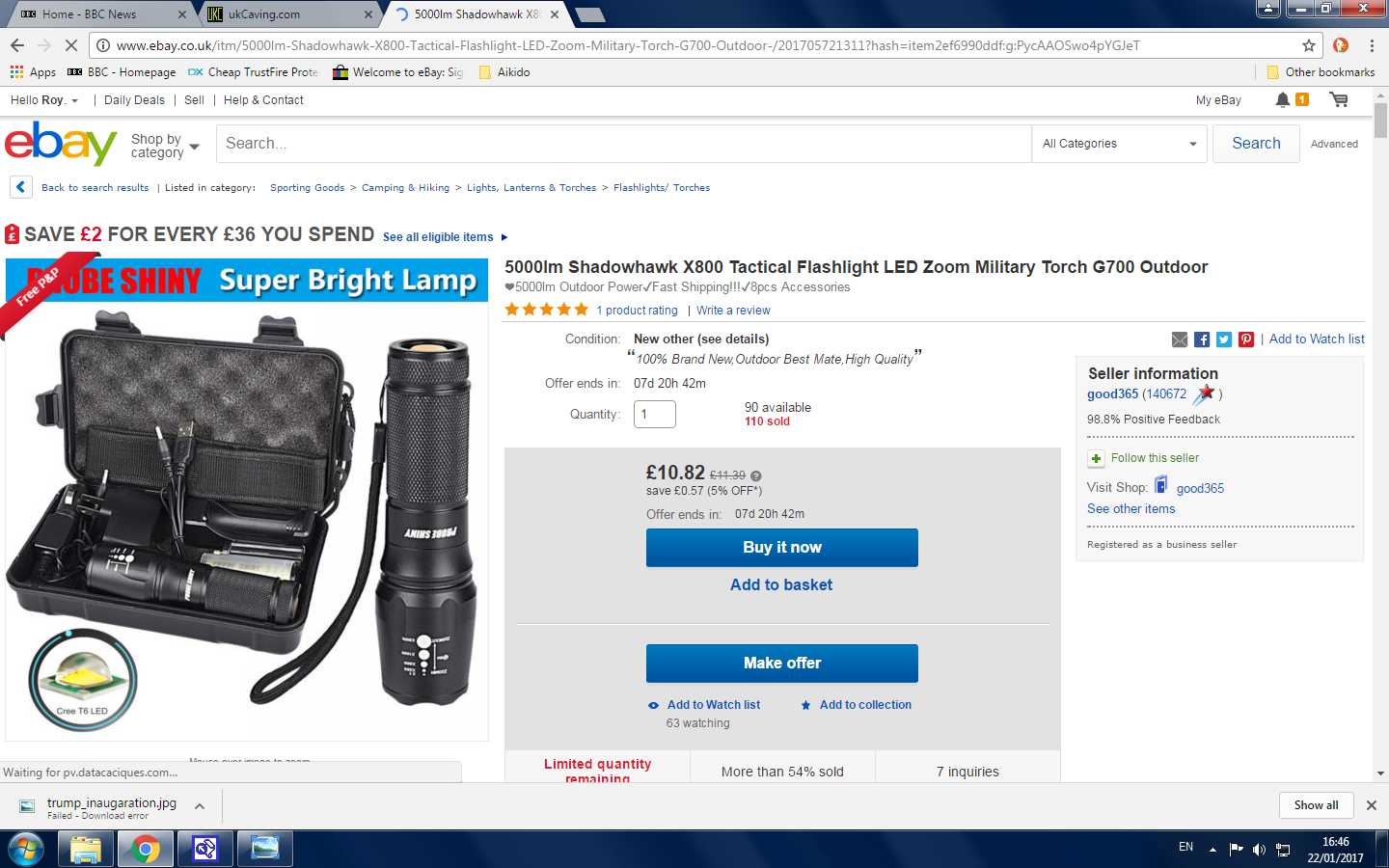 ---
'Free' software'...................which will try to take over your computer!
You may need something simple like a data sheet for an electronic component, or even a service manual. These are inevitably in the universal pdf format for which you only need Adobe Reader. So why do you need to download something else before you can get what you want?
Golden rule is DONT
Typical of this is the Easy Doc Merge Toolbar and is created by Mindspark Interactive LTD. It hijacks your browser and sets your homepage to a specified homepage, in this case ask.com. It will integrate with Google Chrome, Internet Explorer and the Mozilla Firefox. Itís known as a Potentially Unwanted Program and often bundled with free software during itís installation. Toolbars are used to drive traffic to Search Engines full of advertisements or to drive traffic to a homepage of itís developers.
BEWARE OF YouTube AND ITS "DOWNLOAD NOW"S
One was actually found to be a virus
---
Market research
Like being contacted for a market research survey for which you get a free gift. Costs you nothing and you get a gift.
Info you give will of course include your phone number and email address as well as your shopping habits.
Free gift, a designer pen. Fancy sounding name you never heard of, pen is free but postage a fiver. They get them from China for 25 pence a pop.
Sucker!
---
The 'Litter Police'
Remember the mobile speed camera boom when the units were allowed to keep the fines. All this has gone when the Conservatives changes the law.
Well now they are on a different track.
Following a BBC Panorama undercover investigation, the gaff has been blown.
It seems that private companies acting as the "litter police" for dozens of councils pays officers a bonus for issuing fines.
An officer from Kingdom Services, a leading enforcement company, claimed that his bonus one month was £987.
Other officers were filmed handing out £75 fines for tiny pieces of dropped orange peel and poured-away coffee.
They look like police offers at a glance with the same uniform style, but the absence of a police number is the giveaway.

Littering is a crime, but if you pay the fine you can avoid a criminal record.
Councils are increasingly using private companies such as Kingdom Services, based in Cheshire, to enforce the Environmental Protection Act.
Kingdom currently has about 28 contracts with local authorities and last year saw its profits jump 30% to £9m.
The company frequently splits the proceeds of the fines with the councils.
---
The "Curry's Moment"
Walking into PC World with details of something you have seen advertised.
"I have seen this computer advertised on Special offer for £399"
"Just a moment Sir, I will check stock
(Returning) "I'm sorry Sir but they appear to be sold out. But what I do have is a similar model which is higher specification. Unfortunately, its a bit more expensive"
---
An Attempted Payback.
This was tried on me. I received an email purporting to be from a member of the board of directors of one of my companies. I have taken out his name, but reproduced the emails as they are as follows.